News
Tuesday, March 11, 2014
National People's Social Forum is coming this summer! Join us for the kickoff gathering at CUPE 4400 Date:           Saturday March 22, 2014 Time:           6:00 to midnight Address:      1482 Bathurst Street, 4th Floor (St. Clair Subway station – Bathurst and St. Clair) A grassroots Peoples' Social Forum will be held in Ottawa-Gatineau from August 21-24 2014 (http://peoplessocialforum.wordpress.com/). Join us in inaugurating this exciting event, connect with people who have been involved in organizing,…
Monday, March 10, 2014
Dear Raise the Rates Campaign Endorsers and Supporters, On Saturday, March 22nd, we will be having a Raise the Rates meal, rally and march on the Liberal Party Convention here in Toronto (full details below). Right now we are booking buses from Ottawa, Sudbury, Waterloo Region, Kingston, and beyond. We are also setting up 'meet-up spots' for within Toronto for people to meet and come down together. Ways that you can participate in March 22nd: -Organize a contingent from your community, union, or group, then…
Monday, March 3, 2014
Hello Everyone, Please join us in celebrating International Women's Day in Toronto on Saturday March 8th, 2014. We want to build an even larger turn-out than usual marching through the streets, raising our voices, and calling for the kind of city and society we want. This is an important year to show the strength of the women's movement. We are having an October municipal election and most likely a provincial election will be soon. Let them know our strength! Invite your family, friends and co-workers….
Friday, February 28, 2014
Ontario Common Front South Asian Community Activism Awards 2014 Join the community and labour as we come together to celebrate South Asian Heritage Month and recognize community activists. Performances | Dinner | D.J. | Dancing May 31, 2014 − 7:00 pm Sagan Banquet Hall − 7180 Edwards Blvd − Mississauga, Ontario [map it!] Buy Tickets! Individual: $70 Table of 10: $650 Become a Sponsor for $1,000! Support important community activism, receive 10 tickets and the prominent display of your logo Contact Paulette Hazel: 416-443-7667 or…
Friday, February 21, 2014
DATE:  Sunday, February 23, 2014 PLACE: Ontario Federation of Labour, 15 Gervais Drive, Auditorium (Eglinton Ave. East at Don Mills Road) Toronto Time: 2:00 p.m. to 4:00 p.m. COLOUR ME a documentary: Challenges viewers to re-examine how we think about race through a film documentary on a ground breaking mentorship program for black teens in Brampton. The Event is sponsored by: Coalition of Black Trade Unionists (CBTU) and the Ontario Federation of Labour (OFL).
Thursday, February 20, 2014
Join Toronto ACORN in our campaign for affordable high speed internet for low income families! We are asking for $10/month high speed internet for low income families; for more information on the campaign, check out our website. Thursday, February 20 1:00pm Queen Station – south east corner of Queen St. & Yonge St., Toronto
Thursday, February 13, 2014
Connecting Struggles: Taking on Austerity – A discussion on resistance to austerity and global social movements featuring David McNally, Steve D'Arcy, Kamilla Pietrzyk and Sakitowin Awasis. JOIN US! 9:30 am until 4:00 pm PWYC  by donation – Lunch Provided Saturday, February 22nd in the Tolpuddle Common Room 380 Adelaide Street at King Street Hosted by London Common Front
OF NOTE Upcoming Community Events and Commemorative Days FEBRUARY Black History Month FEBRUARY 15 First Aid and CPR Training Courses February 15 th and 16th Presented by Golden Horseshoe Green Tech – GHGT Fees applicable. To register please visit www.ghgt.ca , call 1-855-668-4448 or emailing lab@ghgt.ca   FEBRUARY 15 National Flag of Canada Day FEBRUARY 15 Fiesta del Amor y la Amistad Presented by Fraternity Hispanic Association Ukrainian Hall 821 Upper Wentworth 7:00 pm Baile, Comida Latina, Bar $10 por persona – cupo limitado Para…
Wednesday, February 5, 2014
Celebrate With ACORN! Annual Reception Feb. 28 2014 Fighting For A $14 Minimum Wage, Linked to Inflation! This year, we celebrate our 6th Annual Reception which is an important fundrasier for ACORN members. This year's theme is Raise the Minimum Wage! The money you contribute each year, or for the first time, ensures low income members are directing the organization. You help keep us community organizing, doing door to door work in low income communities, and building a base of families who would not otherwise…
Tuesday, February 4, 2014
ONTARIO FAMILIES DESERVE A RAISE! Rally for a $14 Minimum Wage When: This Family Day Weekend  - Saturday, February 15, 2014 Where: Yonge-Dundas Square Time: 1 pm Info:  RaiseTheMinimumWage.ca Sponsored by: The Ontario Federation of Labour
Tuesday, January 28, 2014
COMMUNIST MANIFESTO DISCUSSION GROUP Presented by Socialist Fightback @ York University Thu. Jan. 30 @ 6:00pm Accolade West building, room 209 York University (Keele campus) Facebook: http://www.facebook.com/events/247691938737338/ Despite the continuous attempts by advocates of capitalism to smear the ideas of communism and the figure of Marx, more and more people around the globe are turning to Marxism to find an alternative to a capitalist system in crisis. What does communism really mean? Why is Marx still so controversial today? Come discover why the 2nd-best selling book…
ROSA LUXEMBURG'S "REFORM OR REVOLUTION" Discussion hosted by Socialist Fightback @ UofT/Ryerson Thu. Jan. 30 @ 6:00pm E.J. Pratt Library, room 202 (2nd floor) 71 Queen's Park Cr. E. (Near Museum subway station) Facebook: http://www.facebook.com/events/1430593550511639/ Near the close of the 19th century, the Social-Democratic politician Eduard Bernstein put forward the idea of "evolutionary socialism." This was the belief that socialism, i.e. a classless society which can provide an abundance for everybody, can be achieved through reforming capitalism from within. To answer this opportunistic revision of Marxist…
Let's make child support available to all eligible children: A Province-Wide Conversation When:   1:30-3:00pm, Thursday, Feb.6, 2014 Who:     Single mothers receiving social assistance, Campaign 2000/Family Service Toronto/ISAC partner organizations & other interested individuals Where:  In-person (Family Service Toronto at 355 Church St., Toronto), through one of the participating partners, or via your own computer (need to ensure you have the hardware and software to participate). TTC tokens are available. RSVP:    By Monday, Feb. 3rd, 2014 (limited space, so please reserve asap) Email: liyugu@familyservicetoronto.org  or…
Wednesday, January 22, 2014
Feathers of Hope: First Nations Youth Action Plan to be released on Monday, February 24, 2014! As you may recall, in March 2013, we held a forum in Thunder Bay, Ontario for First Nations youth called Feathers of Hope. Over the five days of the forum, more than 100 youth from First Nations communities across northern Ontario gathered to share their lived experiences, talk about issues of importance, and share the outcomes of their discussions with leadership from First Nations, provincial, federal and municipal government…
Tuesday, January 21, 2014
Olivia Chow visits Ryerson Wednesday January 29th to discuss her new book, the memoir  'My Journey'. Ms. Chow will be in conversation with Cathy Crowe (Ryerson Distinguished Visiting Practitioner) and a panel of Ryerson students. All are welcome to attend. Ms. Chow's memoir examines the events, people and ideals that have shaped her journey from childhood immigrant to leading Canadian elected official. This event is co-sponsored by the Sam Gindin Chair, The Jack Layton Chair and the Ryerson Students Union. A light lunch and refreshments…
Monday, January 20, 2014
SAVE CANADA POST! TORONTO TOWN-HALL MEETING Fri. Jan. 24 @ 7:00pm OPSEU Hall 31 Wellesley St. E. (across the street from Wellesley subway station) Facebook: http://www.facebook.com/events/254589278039010/ Our postal service is under attack by Harper's Conservatives. Deepak Chopra, CEO of Canada Post, has announced cuts to home delivery and 6,000-8,000 layoffs. His response, when asked about the implications of cutting home mail delivery for elders, was that the elderly needed exercise. This is coming from a man who makes $500,000 a year. The attempt to gut Canada…
THE COMMUNIST MANIFESTO AND ITS RELEVANCE TODAY Presented by Socialist Fightback @ UofT and Ryerson Thu. Jan. 23 @ 7:00pm Ontario Institute for Studies in Education (OISE), room 12-274 252 Bloor St. W. (at St. George subway station) Facebook: http://www.facebook.com/events/819155308111023/ Despite the continuous attempts by capitalists and their lackeys to smear the ideas of communism and the figure of Marx, the workers and oppressed of the world continue to seek out and (re)discover the ideas of Marxism. Through asking questions such as "What does the idea…
Friends, Here is a list of events taking place during Social Justice Week 2014 at the University of Ontario Institute of Technology in Oshawa.   There are more details coming for the event on Tuesday, February 4th and I will forward them along once they firm up.  Please forward this information to faculty, staff, community members, allies, front line social service providers and others. Events: Monday, February 3rd (11AM – 2PM, 61 Charles St, 2nd floor student lounge) Social Justice Week 2014 Fair Students, faculty,…
Friday, January 17, 2014
Click on this link for Sid Ryan's speakers notes for the OFL pre-budget submission presented on January 16, 2014: Speaking notes  Click here for the full pre-budget submission: full Budget document
Wednesday, January 15, 2014
Alex Himelfarb and the Canadian Centre for Policy Alternatives Ontario are making a stop in Kitchener-Waterloo on January 23 during a cross Province tour in seeding a more balanced discussion on taxes and their role in everyday lives.Take the opportunity to share your take on taxation and public services with one of the authors of the book, as well with local players from different walks of life. Ask the right questions and shape our local conversation for the election years ahead. Join us at the Kitchener City Hall…
March to Save Canada Post Sunday, January 26th 1:00 pm Ottawa Meet at Dundonald Park (Kent and Somerset) March to the Prime Minister's Office (Elgin and Wellington) The Canadian Union of Postal Workers is greeting the return of parliament with a rally and march to demand the reversal of planned cuts to the postal service.  The Conservative plan to end home mail delivery and dramatically increase postal rates will be a disaster for Canada Post.  Cutting service to citizens and increasing prices is not what…
Public Forum on Race & Justice in Toronto January 30, 2014, 6:30 pm – 8:30 pm, Room 103, FitzGerald Building, 150 College St., Toronto The Justice in Toronto Lecture Series, co-sponsored by the University of Toronto Global Cities Institute, begins 2014 with a lecture on Race and Justice in Toronto, featuring Gary Pieters, President of Toronto's Urban Alliance on Race Relations, and Scot Wortley, a Professor at the Centre for Criminology and Socio-legal Studies at the University of Toronto. This series of public forums will address…
Friday, January 10, 2014
Please find below the dates and cities for Charles Sousa's finance ministry pre-budget consultations. These should not be confused with the consultations being held by the Standing Committee on Finance and Economic Affairs. Ottawa Jan 13 North Bay Jan 14 York region Jan 15 Windsor Jan 16 Niagara Jan 17 Toronto Feb 3 Mississauga Feb 4 London Feb 5 K/W Feb 6 Brant Feb 10 To get on the stakeholder invitation list call 1-866-989-9002 Antoni Shelton Director of Government Relations &…
Thursday, January 9, 2014
This meeting will be to further discuss the recently-released report "Towards a Vision for the Black Community." Location to Be Announced January 21 from 6:00 to 8:00 p.m.
Wednesday, January 8, 2014
Super excited to confirm that Sterling Harders from Working Washington will be speaking at the Fight for Fair Wages forum on Jan. 24th! Working Washington just won a historic $15 minimum wage for workers at Seattle-Tacoma airport! Sterling will share how they won and what is next! Sign up to get updates on the forum (including the location which will be confirmed VERY SOON!) Friday, January 24 at 6:30pm in EST William Doo Auditorum, 25 Willcocks St., Toronto (Corner of Willcocks St. and Spadina, 2…
On January 14th, tell Premier Kathleen Wynne that we need a $14 minimum wage for a healthy Ontario! Join a province-wide call-in day – call Premier Kathleen Wynne at (416) 425-6777 and your local MPP. Read more about how fair wages in 2014 will improve health and wellbeing in Ontario here. Take Action! Join the phone-in day on January 14th!  Tell Premier Kathleen Wynne we need a raise – call her office at (416) 425-6777 and then your local MPP. Find your MPP contact info here. Get 14 people in…
2014 PRE-BUDGET CONSULTATIONS CONSULTATIONS PRÉBUDGÉTAIRES 2014 The Standing Committee on Finance and Economic Affairs will meet to conduct Pre-Budget Consultations. The Committee intends to hold public hearings in Peterborough, Kitchener, Oakville and Toronto during the week of January 13, 2014; and in Sarnia, Thunder Bay, North Bay and Kingston during the week of January 20, 2014. Interested people who wish to be considered to make an oral presentation to the Committee should contact the Clerk of the Committee by 12 noon on…
I suggest that on November 30th, after Leamington's Santa Parade, that the entire municipality and its surrounding communities show up outside of Heinz for a candlelight protest to the closing of this local industry and the harm it will cause our Essex County community. I assume the parade takes two and a half hours. Therefore, 9:30 P.M. On November 30th might be a good time to make a public statement of compassion for Heinz workers, farmers and our community's disgust for corporate greed. It's just…
Wednesday, July 10, 2013
Wednesday May 22, 6:00 p.m. McNabb Community Centre, Assembly Hall 180 Percy Street, Ottawa Speakers include: Maude Barlow Voluntary National Chairperson, The Council of Canadians Michael McBane National Director, Canadian Health Coalition Natalie Mehra Director, Ontario Health Coalition Please RSVP as food will be provided. Massive Hospital Cuts and Privatization in Ottawa Ottawa is Ground Zero for hospital privatization in Ontario. The Ottawa Hospital is facing among the harshest health service cuts of anywhere in the province. Thousands of surgeries and hospital procedures are being…
Friday, June 14, 2013

August 19th, 2013 9:00 am to 5:00 pm at Yorkdale Holiday Inn, 3450 Dufferin Street, Toronto –Student, Social movements and labour activists from across Ontario will come together to build alternatives to a right-wing agenda of austerity, poverty and repression. We believe a future is possible that respects democracy, environment, land and human  rights. But we need deep organizing. Speakers include: Dr. Henry Giroux, Global Television Network Chair in Communications studies at McMaster University. In 2004, Dr. Giroux wrote the book, The Terror of Neoliberalism….
Monday, May 6, 2013
https://www.facebook.com/events/506345389427641/
Budget 2013 has begun to make positive changes to a social assistance system that has continued to impoverish and cause hardship for low-income Ontarians. The majority of these changes apply to the Ontario Works (OW) program. After the Commission's social assistance review report, starting the process of reform with positive changes to OW is the right way to proceed. The government has clearly heard the concerns of individuals and groups across Ontario about the negative impact of the report's recommendations on people receiving ODSP. As…
Monday, April 22, 2013
Come picket this Wednesday outside Soo Wong's Liberal MPP HQ(2245 Kennedy Rd.)before and after the instructional day (7:45-8:15/3:35-4:15). All supporters of quality education and fair bargaining in Ontario are welcome. Facebook event http://m.facebook.com/events/356489294461619?_rdr
Wednesday, March 20, 2013
A group of Young Conservatives have popped up on the Durham College and UOIT campus recently. We don't know much about them because their Facebook group is private and requires students to request approval for access. The group's description simply states, "Supporting the students, supporting the country". However, the current membership list boasts a who's-who of Conservative Party insiders, MPs, MPPs and Young Conservative organizers from across Ontario. It seems the Conservative Party of Canada and the Progressive Conservative Party of Ontario have made our…
You are invited to participate in a full-day Trade Justice Network meeting to discuss and strategize the Canada-EU CETA negotiations, and to hear from international experts about Canada's participation in the Trans-Pacific Partnership and Comprehensive Economic Partnership Agreement talks with India. Those who cannot make the meeting in person will be able to phone-in. When: April 15, 2013, 9 a.m. to 4 p.m. Where: CEP Boardroom (301 Laurier Avenue at Bank Street), Ottawa (MAP http://tinyurl.com/bvbl8d8) The meeting will be split into two parts:…
Ontario is facing an historic opportunity to invest in poverty reduction in the 2013 budget. We can't let this opportunity to pass us by. The 2013 Budget can allow Ontarians living on low-incomes to Earn More, Keep More and see benefits Restored. A recent letter sent by the 25in5 Network for Poverty Reduction urges all political parties to make minority government work for all Ontarians by investing in poverty reduction initiatives.Take Action to show your support for poverty reduction in the upcoming budget by signing…
Tuesday, March 12, 2013
Ontario Common Front South Asian Community Activism Awards 2013 Join the community and labour as we come together for a closing ceremony to celebrate South Asian Heritage Month and recognize community activist. Performances | Dinner | D.J. |  Dancing June 1, 2013 − 7:00 pm Sagan Banquet Hall − 7180 Edwards Blvd − Mississauga, Ontario [map it!] Buy Tickets! Individual: $60 Table of 10: $500 Become a Sponsor! Platinum: Half-page ad and 10 tickets for $1,000 Gold: Mention in the program and 10 tickets for…
Friday, February 22, 2013
Protecting Rights, Building Solidarity: A Workshop on Migrant Labour and Immigration Issues April 5 and 6, 2013 Program runs Friday evening and all day Saturday Metro Hall, Plenary Room 308-309 55 John Street, Toronto Join workers, advocates, unions, experts and community allies who are committed to protecting and strengthening the rights of newcomers to our province's labour market. Through speakers and participatory sessions, participants will examine the impact of current policies, explore solutions, and develop strategies for joint action. Download the flyer here and help…
ACORN Canada 2013 Convention June 22-24 Toronto, Ontario (University of Toronto) Real People for Real Change The subsidized costs of the trip to the 2013 ACORN Convention in Toronto is $350 which includes: Room and Board Food (Breakfast, lunch and dinner) 2 Coach buses transport around the city $50 guarantees you a spot Phone: 613-746-5999 onacornot@acorncanada.org
Saturday June 1, 2013 Ontario Common Front South Asian Awards Dinner and Dance 7180 Edwards Blvd, Mississauga 6:00 p.m.
Celebrate Black History Month Where is our Obama? What policies does she/he support? This event will be held February 28, 2013 at large boardroom, Public Service Alliance of Canada 90 Eglinton Avenue East Suite 608 Toronto On Event time 6:00 p.m. – 8:30 p.m. RSVP PSAC_Toronto-mail@psac.com Food and Refreshments provided
OCAP is calling for an EMERGENCY MEETING to talk about homeless deaths in the city, the crisis in the shelter system and upcoming actions that we have called to continue to put pressure on the City of Toronto Thursday, February 28th 6:30pm @ St.Lukes Church (Sherbourne/Carlton, in the 'Education Centre' room) Important Update: No More Homeless Deaths Wednesday, February 20th, 2013 For the past several weeks, OCAP and allies have been forcing the issue of homeless deaths and the crisis in the Toronto shelter system…
Saturday, January 19, 2013
Join the Ontario Federation of Labour and over 90 community groups for a rally at 1:00 pm on Saturday, January 26 to bring our demands for democratic and economic rights directly to the Ontario Liberal Leadership Convention. The Ontario government has been shut down while workers' rights are under threat and cuts to jobs and services are hurting every community. However, with an Ontario Liberal Leadership Race underway and a provincial election on the horizon, workers and community members are demanding new priorities for Ontario…
Friday, December 14, 2012
This holiday season we need you to take action to stop wage theft. Email Minister of Labour Linda Jeffrey and let her know what wage theft means to you this holiday season. We know that lots of families are struggling to pay the bills at this time of year. No one can afford missed payments of wages, bounced cheques or to not get paid for public holidays this season. But in Ontario at least 1 in 3 low wage workers face unpaid wages. The economic…
Thursday, December 6, 2012
For Immediate Release December 6, 2012 (TORONTO, ON) ─ Hot on the heels of a nationally recognized report exposing Ontario's growing income inequality, the Ontario Common Front is expecting hundreds to attend a general assembly this weekend where plans to challenge government cuts to public services, good jobs and democratic rights will be hashed out. "The Ontario Common Front is a coalition of over 100 community and labour groups  was born early this year in response to the Ontario Government's deep budget cuts," said Common…
Thursday, November 8, 2012
Ontario Common Front General Assembly Saturday, December 8, 2012 University of Toronto – Ontario institute for Studies in Education (OISE) 252 Bloor Street West, Toronto 9:30 a.m. – 4:30 p.m. Click here to visit the event page on Facebook. You are invited to the Ontario Common Front (OCF) General Assembly on Saturday, December 8, 2012 from 9:30 a.m. to 4:30 p.m., at the Ontario Institute for Studies in Education (OISE) University of Toronto, 252 Bloor Street West, Toronto. We are facing an increasing crisis in Ontario…
Monday, October 29, 2012
Courage is a new documentary produced by the National Film Board of Canada. There is a special screening of the film sponsored by the Community Connections group of the Documentary Organization of Canada. Courage will be shown Tuesday, October 30th at 7pm at Hart House, University of Toronto. The screening will be followed by a panel discussion with participants from the Worker's Action Centre, the Ontario Federation of Labour, the director of the film, Geoff Bowie, and Bebeth Asseli, who tells her story in the…
Saturday, September 22, 2012
WORLD PREMIERE OF SKY GILBERT'S NAKED HAMILTON AT THE ARTWORD ARTBAR Hamilton, Ontario (Saturday, September 22, 2012) For Immediate Release – NAKED HAMILTON is the seventh Sky Gilbert work presented by Hammertheatre to have its World Premiere in Hamilton, Ontario. Gilbert's newest one-act play stars Elley-Ray Hennessy (HAMILTON BUS STOP) and Scott McCord (SCOTT MCCORD AND THE BONAFIDE TRUTH). The production will be presented at the Artword Artbar, located at 15 Colbourne Street, in Hamilton, Ontario, from November 15-25, 2012. THE PLAY: Hamilton's changing. And…
Friday, August 31, 2012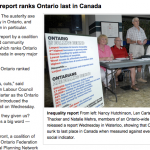 –On Thursday, August 30, 2012 the Kitchener-Waterloo Record covered the launch of the Common Front Report. By Jeff Hicks, Record Staff WATERLOO — The austerity axe is killing equality in Ontario, and Waterloo Region in particular. So says a new report by a coalition of 90 labour and community organizations, which ranks Ontario dead last in Canada in every major social indicator. Two years ago, Ontario ranked third last. "Cuts, cuts, cuts, cuts," said Waterloo Region Labour Council president Len Carter as the Ontario Common…
Thursday, August 30, 2012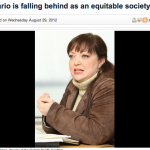 – On Thursday, August 30, 2012 the Toronto Star ran the top editorial carrying the message of the Ontario Common Front. We're 10th out of 10. Ontario has dropped to last place in Canada in supporting its most vulnerable citizens, according to a new report by the Ontario Common Front, a coalition of community groups, immigrant organizations, unions, First Nations and students. The statistics in the Falling Behind report, released Wednesday, are not new. What is new is that the study zeroes in on Ontario and compares it…
Wednesday, August 29, 2012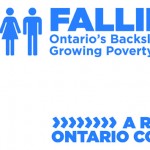 FOR IMMEDIATE RELEASE August 29, 2012 MEDIA RELEASE Ontario Leads in Poverty Increases and Dead Last in Social Program Funding: New Report Says Ontario is Falling Behind An Ontario-wide coalition of more than 90 groups and organizations concerned with growing inequality released an unprecedented new report today showing that Ontario has sunk to last place in Canada when measured against every important social indicator. "Most people would be shocked to know that Ontario has seen the largest increase in income inequality and the second largest…
Monday, August 27, 2012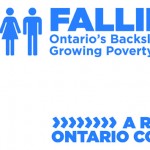 FOR IMMEDIATE RELEASE Monday, August 27, 2012 MEDIA ADVISORY Startling New Findings Show Ontario is Dead Last In Equality: Coalition of 90 Community Groups to Release Unprecedented Report (Toronto, Ontario) – A cross-Ontario coalition concerned with growing inequality is releasing an unprecedented new report that shows that Ontario has sunk to last place when measured against every important social indicator. The report demonstrates that not only are many Ontarians being left behind, but the entire province is falling behind the country and inequality is being…
Friday, April 20, 2012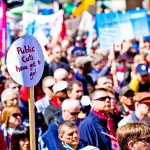 (TORONTO, ON) ─ At a media conference held at Queen's Park today, representatives of 90 community and labour groups unveiled a province-wide campaign, called "We Are Ontario," to challenge lopsided budget priorities that promise more hardship for families while protecting the profits for big corporations. McGuinty's cuts to jobs and services, which are the largest since Mike Harris' first term of office, have stirred an opposition to match. "When voters reduced McGuinty's government to a minority, they called for compromise and fairness in the legislature….
Thursday, April 19, 2012
A media conference to be held at Queen's Park on Friday, April 20 at 10:00 am will launch a province-wide campaign, called "We Are Ontario," that brings together over 90 labour and community groups to oppose unfair budget cuts that target poor and middle-class families while rewarding banks and corporations. The campaign is planning a 3:00 pm rally of thousands at Queen's Park on Saturday, April 21 but it will start the prior evening with a mass community assembly, called the "Common Front," from 3:00…
Wednesday, April 18, 2012
Customized online avatars have been released to help you promote the April 21 Day of Action Against Cuts in multiple languages. Help build broad awareness in every community by changing your social media profile image to one of the multilingual images below. Download FRENCH Download PORTUGESE Download SIMPLIFIED CHINESE Download SPANISH Download TAMIL Download VIETNAMESE
Tuesday, April 17, 2012
With thousands already signed up to board 97 buses from as far away as Timmins, and thousands more planning to travel by foot, car and streetcar to the Queen's Park Legislature, Saturday's rally against McGuinty's deep budget cuts is expected to demonstrate widespread public opposition only days before the final budget vote. "Ontarians are outraged by a budget that places the burden of addressing the provincial deficit at the feet of those least responsible for creating it in the first place," said OFL President Sid…
Monday, April 16, 2012
Scheduled to air in the week before the final budget vote on Premier Dalton McGuinty's "bankers' budget", We Are Ontario began airing prime-time radio ads that take aim at the unfairness in the government's fiscal priorities. While delivering deep cuts to families, the budget continues to hand billions away to banks and corporations through tax cuts and loopholes. These campaign radio ads tell the Premier: "There's a better way to balance the provincial budget than deep cuts to families. It is time for banks and…
Wednesday, April 4, 2012
Your action is urgently needed to promote the April 21 Day of Action Against Cuts: Change your profile picture on Facebook and Twitter to the attached image to promote April 21. Forward this image to all of your members and networks to request that they do the same. Add the attached picture to your outgoing email signature. Promote the Day of Action on your website and through all of your online tools. Post at least one new Tweet or Facebook update every day until April…
Friday, February 3, 2012
At 3:00 pm on Saturday, April 21, 2012, the labour movement and community groups will hold a mass Day of Action against budget cuts at Queen's Park in Toronto. The province continues to hand out billions of dollars in corporate tax cuts through the front door while public and private sector jobs are disappearing through the back door. The Ontario government is preparing to table a slash-and-burn budget in late March or early April that will be guided by the hundreds of cuts that former…