Workshop on Migrant Labour: Protecting Rights, Building Solidarity
Friday, February 22, 2013
Protecting Rights, Building Solidarity:
A Workshop on Migrant Labour and Immigration Issues
April 5 and 6, 2013

Program runs Friday evening and all day Saturday

Metro Hall, Plenary Room 308-309

55 John Street, Toronto
Join workers, advocates, unions, experts and community allies who are committed to protecting and strengthening the rights of newcomers to our province's labour market. Through speakers and participatory sessions, participants will examine the impact of current policies, explore solutions, and develop strategies for joint action.
Download the flyer here and help promote the event.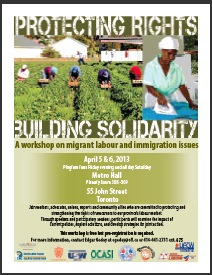 This workshop is FREE but pre-registration is required.
For more information, contact Edgar Godoy: egodoy@ofl.ca or 416-441-2731 ext. 657