K-W Record: Inequality report ranks Ontario last in Canada
Friday, August 31, 2012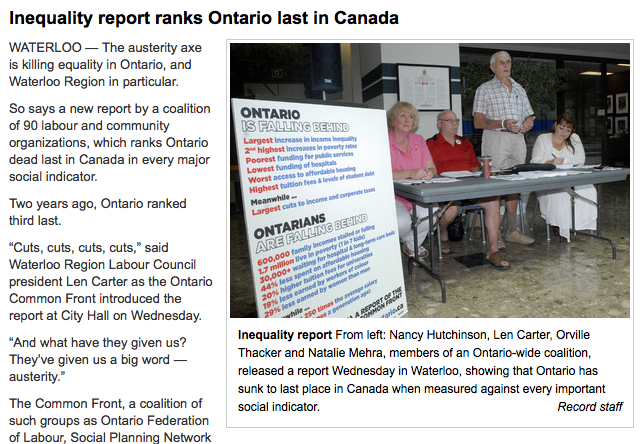 –On Thursday, August 30, 2012 the Kitchener-Waterloo Record covered the launch of the Common Front Report.
By Jeff Hicks, Record Staff
WATERLOO — The austerity axe is killing equality in Ontario, and Waterloo Region in particular.
So says a new report by a coalition of 90 labour and community organizations, which ranks Ontario dead last in Canada in every major social indicator.
Two years ago, Ontario ranked third last.
"Cuts, cuts, cuts, cuts," said Waterloo Region Labour Council president Len Carter as the Ontario Common Front introduced the report at City Hall on Wednesday.
"And what have they given us? They've given us a big word — austerity."
The Common Front, a coalition of such groups as Ontario Federation of Labour, Social Planning Network of Ontario, Ontario Health Coalition and Workers Action Centre, says its report is non-partisan. However, in the midst of two crucial byelections in Kitchener-Waterloo and Vaughan, the Liberal government's 2012 budget is clearly targeted for trimming corporate taxes at the expenses of public programs.
"People are hurting," Carter said. "They're feeling the pain they didn't cause."
Carter says median wages in Waterloo Region are down nearly $5 an hour compared to 2006. The region's disappearing manufacturing base, along with job cuts at struggling tech giant Research In Motion, are also having an impact.
"This is the most re-inventive region in the country," Carter said.
"This area has reinvented itself time and time again. But the people in this region who want to do those things are finding it enormously difficult. They're working three jobs. They can't start a business."
The report examining Ontario's poverty, out-of-pocket costs for social programs, waiting lists for community services and other measures was compiled from various reports, consultations and government statistics.
Its author, Natalie Mehra of the Ontario Health Coalition, hopes it will help sway the government's approach as it prepares to craft next year's budget.
"Not to be entirely fatalistic," Mehra said. "There's lots of promise here. We can turn things around, if we choose to."