RELEASE: Ontario Takes Last Place in Jobs, Social Programs and Income Equality
Thursday, November 19, 2015
FOR IMMEDIATE RELEASE
November 19, 2015
 MEDIA RELEASE
Ontario Takes Last Place in Jobs, Social Programs and Income Equality: 
New Report Says Fully Half of Ontarians are Caught in a Backslide
(Toronto, Ontario) – An Ontario-wide coalition of more than 90 labour and community groups concerned with growing inequality released an alarming report today that delivers a grim warning about the erosion of income transfer programs, social programs and a labour force that is leaving millions behind.
"Ontario is dead last in funding for social programs and, by nearly every measure, it is trailing every other province in income equality and poverty reduction," said report author, Natalie Mehra. "While it is hard to start a family anywhere in Canada, young families in Ontario are struggling with the largest student debt loads, the most expensive child care, the worst access to affordable housing and highest costs for health care – all at a time when good jobs are being replaced with precarious, part-time and temporary employment at unprecedented."
"A quarter-million jobs have completely vanished from Ontario and fully half of all Ontarians have seen little or no improvement in their incomes, while the top 10 percent are making off like bandits," said Ontario Federation of Labour President Sid. "When I look at the fact one third of Ontario's workforce are earning at or near the minimum wage, it feel sick for the future. We cannot sacrifice youth and young families on the altar of deficit reduction and corporate tax giveaways. It is time for a real plan to create meaningful jobs to support the next generation."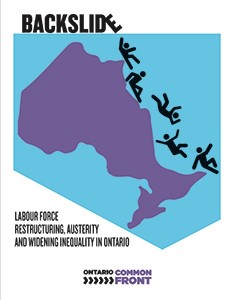 The comprehensive report, called "Backslide: Labour Force Restructuring, Austerity and Widening Inequality in Ontario," pulled together national research that paints a picture of the changing standard of living for Ontarians. This report documents three concurrent trends: a sea change in the labour force, the erosion of income transfer programs that protect people from falling through the cracks, and Canada's worst cuts to social programs. Consider the following report findings:
Ontario's involuntary part-time workforce has ballooned from five percent below the rest of the country to eight percent more than other provinces;
Ontario has experienced a 50 percent increase in the duration of unemployment, making its long-term unemployment the second worst in Canada;
1.7 million people are now earning within $4 of the minimum wage;
The income disparity between the poorest 10 percent and the richest nearly doubled from 11 times to 19 times difference;
Median net wealth for the top 10 percent increased by 41 percent, while the bottom 10 percent saw their earnings decline by 150 percent;
There has been a 38 percent increase in poverty in Ontario over the past 20 years and nearly one in five Ontario children live in poverty;
Ontario funds all of its social programs at the lowest rate in Canada;
University tuition fees have outpaced inflation by 601 percent and are by far the highest in the country, while per student funding for higher education is dead last;
Young Ontario families pay up to $19,000 a year for child care, the highest costs in Canada; and
Over the past five years, cuts in Ontario's real-dollar per person funding for public services totaled more than $7 billion.
The report gives credit to Premier Kathleen Wynne for taking initial steps to break with the austerity agenda laid out by her predecessor. In recent years, child poverty was reduced by nine percent across Ontario, minimum wage received modest real dollar increases and Ontario led the country in pushing for an expanded public pension plan. While each of these initiatives is important in its own right, they represent only small steps forward, particularly when juxtaposed against massive corporate tax cuts that are paid from the public purse.
"If there is good news to be extracted from this report, it is that every other province in Canada has charted a better course than Ontario. This serves as proof that every government is capable of making different choices," said Mehra. "This report highlights Ontario's obligation to reverse the trend towards income inequality and allow for a more fairer shouldering of the benefits and burdens of our economy. We look forward to engaging in discussions with the Wynne government on how to make that happen."
Download a full copy of the report: http://weareontario.ca/wp-content/uploads/OCF-Backslide-2015.pdf
The Ontario Common Front is a coalition of more than 90 community and labour groups that was first spearheaded by the Ontario Federation of Labour in 2012. This grassroots group is focused on exposing Ontario's growing inequality and proposing workable solutions to fix it. Visit the campaign website: www.WeAreOntario.ca
-30-
For more information, contact:
Joel Duff, Media Liaison: 416-707-0349 or jduff@ofl.ca